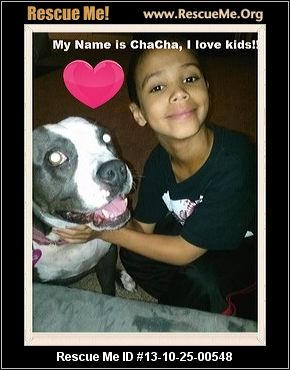 Rescue Me ID: 13-10-25-00548
ChaCha- LOVES KIDS!
(female)
American Staffordshire Terrier    Age: Adult


| | |
| --- | --- |
| Compatibility: |  Good w/ Most Dogs, Good w/ Most Cats, Good w/ Kids and Adults  |
| Personality: |  Average Energy, Average Temperament  |
| Health: |  Spayed, Vaccinations Current  |
    ChaCha is a 6 year old female Staffordshire Terrier weighing 75 pounds that is fully housebroken and crate trained. She is a beautiful 'blue' gray and white color, and she is very playful & has a true zest for life- you'd never know she was an adult by the way she is always smiling, soaking up the attention and company of others! ChaCha loves to play ball with you and could go for hours, but when playing quietly, I have found that a durable Kong toy or Nylabone is best as she can get a little carried away! She is afraid of loud noises, i.e. fireworks, garbage trucks, and thunderstorms, so a new owner would need to know there will be times ... (Read More)when ChaCha will be needing your emotional support (and lap). She is also not a fan of water; if it is raining she will not go outside- she IS a California rescued dog, after all! ChaCha is up to date on all vaccinations, spayed and LOVES children- her previous adopter who is looking to find her a new home has two small boys, and ChaCha has learned to be extremely gentle and not plow into them when she is overly excited. She would make a family complete with her nuturing and affectionate personality, to be sure. Because she can easily climb a fence, she would need to be supervised while outdoors; we prefer that any yard have at least a 5-6 ft fence. A born athlete, ChaCha is a runner and will chase rabbits, squirrels, and cats (thus, we do not believe she should be in a home with any cats). Currently, ChaCha is in training, working on not only socialization around other dogs but working on improving her proper leash skills as she can be a strong puller; we have found she does best with a prong collar. Because she exhibits anxiety when around other dogs- losing focus and becoming reactive to their energy- we believe Chacha's ideal home would have her as the only pet. If you are interested in discussing Chacha further, and possibly setting up a meeting, please contact Rachel at #323-929-7311 or via email: Hollywooftotherescue@gmail.com. https://www.facebook.com/rachelmlamb/media_set?set=a.10152405851967550.1073741883.551257549&type=1 (Less)

Animal Location:
Davenport, CA
MAP IT!
| | | |
| --- | --- | --- |
| Contact: | | |